Business Analysis is one of the UK's most in demand skills, with hundreds of jobs advertised every week. Every organisation benefits from the insights unlocked and solutions suggested by an expertly trained Business Analyst. 
A recognised entry point into the profession, AssistKD's Business Analyst Apprenticeship scheme is ideal both for employers who wish to provide a formal development programme for their business analysts and for employees who wish to achieve the Level 4 Business Analysis qualification. 
Apprentices develop a portfolio of skills for life, learning from the best while gaining real life industry experience. 
Employers unlock the potential of new starters and existing employees, developing in-house expertise and increasing ROI. 
The UK's leading experts in Business Analysis training, AssistKD run Business Analyst Level 4 Apprenticeship programmes all year round. 

We work with apprentices of a wide range of ages and backgrounds, getting to know them personally as valued learners and helping them reach their full potential. Our fully audited training programme offers a low mentor-to-apprentice ratio and specialist training from experts in the field. 97% of our apprentices achieve the Level 4 Apprenticeship. 
Our many partner employers include Allianz, Aviva, Ordnance Survey, the Department for Work and Pensions and the Nationwide Building Society. 
Employer benefits – Grow your own
Create your own in-house expertise. Skill up a new starter or unlock the potential of a member of your team.  
Work with the best. AssistKD helped to develop the government Business Analyst Apprenticeship scheme and is the UK's leading Business Analysis training company.
Nurture new talent. Find a keen, motivated new starter who is willing to learn… then watch them fly. 
Grow your own. Develop loyal employees who understand your business, instead of recruiting Business Analysts in a competitive market.
Add value. Increase ROI. Better trained, more effective staff benefit your organisation. The skills they learn will more than repay the time and cost of the training.
Apprentice benefits – learn from the best
A professional qualification, and so much more. Develop a skillset for life, while gaining valuable industry experience. Learn from experienced and successful practitioners, NOT from other people's bad habits. A dedicated mentor is with you every step of the way. 
No hefty student loan. Earn while you learn. 
Fantastic job prospects. In 2020, LinkedIn listed Business Analysis as the sixth "most in-demand skill." 
Career progression. Build a professional 'toolkit' you can apply to any sector. Move into roles such as Senior Business Analyst; Business Consultant/Partner; Product Owner; Customer Journey Analyst; Business Analysis Manager or Change Manager.
Pastoral care and Safeguarding. We care about your safety and welfare, and your long term career aspirations. Safeguarding and Prevent considerations underpin all our work, and we offer tailored additional support packages where required. 
About the BA Apprenticeship
The government's Business Analyst Apprenticeship Scheme has been designed to equip apprentices with the key skills required for a successful career in Business Analysis. The technical competencies and skills are listed below.     
'The Occupational Standard' details the skills, knowledge and behaviours you will develop, that need to be evidenced to achieve the apprenticeship. To view this, click here.

The professional skills you will gain are illustrated below.
PLUS essential core personal skills.
Analytical and problem solving skills.
Logical and creative thinking.
Planning and organisation.
Effective communication.
The AssistKD programme
The programme is a mixture of formal course attendance, dedicated mentor input and support, deliberate practice, directed self-study and e-learning. Apprentices are expected to compile a portfolio of 'evidence' to demonstrate how they've applied their new skills in the workplace. 

Alongside formal employer training, the programme makes up the required 20% of 'off the job' learning.
Suits all ages and backgrounds, from school leavers to long service employees.
A challenging, yet manageable learning and development timetable.
Apprentices attain a Level 4 Apprenticeship plus four BCS International Diploma in Business Analysis certificates in just 18 months. This positions them to go on to take their Diploma oral exam once the apprenticeship has been completed.  
The course is flexible to suit different abilities and learning styles, including learning, tasks and assignments geared to the apprentice's working environment.
Careers guidance. Ongoing development via our Learning Zone including podcasts, videos and blogs.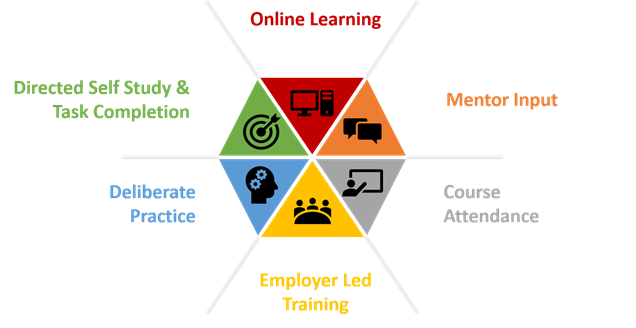 Employer next steps
Here are a few questions to ask yourself if you are considering running a business analyst apprenticeship scheme. 
Our snakes and ladders board is a fun way to think about the pros and cons of running an apprenticeship scheme. The good news is that that are many more ladders than snakes.
Get informed. Read the government's Employer Guide to Apprenticeships here. Read the Business Analysis Occupational Standard here. 
Keen to go ahead? We'll be happy to help. If you choose AssistKD as a provider, we can answer all your questions, discuss the final content of the programme to be delivered, and help you with the necessary contractual agreements. 

Our programmes start at any time of the year and are up and running within 4-6 weeks of sign-off. 
FAQs
APPRENTICE FAQs

Please click here for EMPLOYER FAQs
Who can do a Business Analyst apprenticeship?

If you live in England, work for an English employer and are over 16 with a Grade C/4 or above in Maths and English at GCSE then you are eligible. 
How does a Business Analyst apprenticeship work?

With a Business Analyst apprenticeship, you spend 20% of your time studying towards your Level 4 BA Apprenticeship qualification and 80% of your time in your workplace, applying your new technical competencies and skills.  
What qualification will I get? 

Successful completion of the programme results in a Level 4 qualification. This is equivalent to a Foundation Degree. BA Apprenticeships are widely recognised in the profession as a best start point in developing an effective skills base. You will also gain four BCS International Diploma in Business Analysis certificates.
How much guidance will I receive on the assessment process and how to achieve the best grade? 

Throughout your apprenticeship you will receive all necessary guidance to help you showcase your skills for assessment. Towards the end of the programme you will attend an assessment preparation day where all aspects of the final assessment are explained.  
When do programmes start (time of year)?

Apprenticeship programmes can begin at any time of year. We usually ask for 4-6 weeks' notice to complete our preparatory work and allocate a mentor. 
How much of my time will be spent in learning? 

20% of your working week will be spent in formal learning. This 20% might include: course attendance, online learning, time with a mentor, shadowing or compiling your portfolio of evidence.  
What study materials are included?
Comprehensive course manuals, including a step-by-step guide through the programme and useful reference materials.
Our core text book.
Privileged access to our e-learning suite.
Access to our free Learning Zone. 
How often will I see my mentor and are they available between meetings? 

Our apprentices see their mentors every 6 weeks and they are available for e-mail and phone contact in between meetings.  
Is the Apprenticeship Scheme just for school leavers?

No. Any employee can take part in a Business Analyst apprenticeship programme if they want to develop their Business Analysis skills to progress in their career. The only requirement is that the apprenticeship scheme represents new learning for the apprentice. 
Where can a Business Analyst apprenticeship take me in the future?
If you're starting out, the Business Analyst apprenticeship is the ideal entry into the profession. If you are already working in the field, developing your Business Analysis skills set enables you to progress to more senior roles such as:
Senior Business Analyst.
Business Consultant/Partner.
Product Owner.
Customer Journey Analyst.
Business Analysis Manager.
Change Manager.
Level 4 apprenticeships are equivalent to a Foundation degree, so you could take your study further. Many Universities now offer remote learning, however a student loan may be required.
What is a Business Analyst apprenticeship?

A Business Analyst apprenticeship offers off-the-job training, learning and development for a current or new employee in a full time role in your business. The apprentice will spend 20% of their time studying towards their Level 4 BA apprenticeship qualification, and 80% of their time adding value to your business with their new technical competencies and skills.
How will a Business Analyst apprenticeship benefit my business?

Recruiting trained Business Analysts is time-consuming and costly. With an apprenticeship you can nurture new starters or unlock the potential of existing employees. As they gain competencies, skills and confidence, your apprentice will add value to your business.  
Is the Apprenticeship scheme just for school leavers?

No. Any employee can take part in a Business Analyst apprenticeship programme if they want to develop their business analysis skills to progress in their career. Employees in the following jobs may be interested.
IT Consultant or IT Business Analyst.
Operations Analyst.
Requirements Analyst.
Technical Business Analyst.
Business Process Analyst.
How much colleague time might need to be invested in supporting an apprentice?

It depends on how experienced your apprentice is, and whether they are new to the working world. Expect to invest a regular amount of time each week to check on their progress and to make sure they have plenty of opportunities to apply the range of skills they're developing. 
Are all of the costs of training and mentor support covered by levy funding?

Yes. All costs relating to the programme and training and mentoring your apprentice or apprentices are covered by your levy funding. 
What are your top tips for a successful apprenticeship? 

Why not read our blog with critical success factors for running an apprenticeship scheme. https://www.assistkd.com/knowledge-hub/business-alchemists-blog/critical-success-factors-successful-apprentice-programme 
| | |
| --- | --- |
| Duration:18 months. | Entry: GCSE Maths and English and Grade C/4 or above. |
| Qualification: Business Analyst Level 4 Apprenticeship. | Success rate: 94%. |
Get ahead. 
The Business Analyst Apprenticeship Scheme is a stepping stone to career progression for anyone interested in business analysis as a profession. The scheme is recognised by most employers as the best formal entry point to a career in business analysis.
Our business analyst training programme has been adapted to be delivered virtually. Given the success of this approach, it will be a significant part of our delivery moving forwards.